Sundial Growers Is a Pure Play on Trading Sentiment
InvestorPlace - Stock Market News, Stock Advice & Trading Tips While SNDL stock is one of the most popular meme trades, you'll want to read betwee...
InvestorPlace - Stock Market News, Stock Advice & Trading Tips
Investorplace.com - InvestorPlace
Almost surely in any other context, Sundial Growers (NASDAQ:SNDL) would have faded into the doldrums because of the clear warning signals that its management team signaled to the investing public. True, there will always be speculators who would pile into SNDL stock merely because of its cheap price. But the difference today is the volume of said speculators.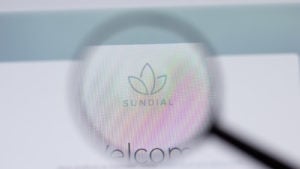 Source: Postmodern Studio / Shutterstock.com
Theoretically, then, Sundial Growers can move higher — much higher possibly — because of the greater fool theory. Basically, the idea is that you can sell shares of a tradable asset because there will always be someone to offload them to. In principle, this applies to almost anything given a particular timeframe. But the difficulty with SNDL stock is that you must make sure you don't end up ultimately holding the bag.
Mainly, the challenge with these so-called meme stocks — by that, I simply mean an equity unit that has tremendous social media following with the end purpose of coordinated community-driven trading — is that the fundamentals are usually lacking. In other words, without everyone publishing silly posts, it's difficult to justify something like SNDL stock.
InvestorPlace contributor Ian Bezek expertly described Sundial's glaring lack of a fundamental catalyst — at least one that would support and sustain a significant move higher. Bezek noted that Sundial saw the opportunity in the initial wave of enthusiasm, writing:
"The company took advantage of this run-up to issue a gargantuan amount of stock. So much, in fact, that it paid off its debts and ended up with a billion dollars of cash left over. It was an incredible move."
However, Bezek pivoted, "Sundial also ended up with an enormous amount of outstanding stock; it has more than 1.6 billion shares outstanding at this time. This means it has a market capitalization of $1.5 billion as well given the current share price."
Hence, the problem with Sundial shares.
SNDL Stock Stuck in Dilution Central
Dilution is one of the main enemies of capital returns. Heck, it's even one of the main sources of complaints for consumers. How many times have you been in a fast-food restaurant or in a movie theater and discerned that the fountain drinks were watered down? You're not getting full value for your money.
And that's exactly what's going on with SNDL stock. Not only is the valuation watered down, but management insists filling half the shareholders' cups with ice. More benefit to the suits and ties, less so for you, the risk holder.
Again, in any other circumstance, you'd expect people to call baloney on this business practice; perhaps even write some really angry Yelp (NYSE:YELP) reviews. But that's not what is happening in the new normal. No, people are buying SNDL stock because "pack together strong."
But it's not just dilution that's problematic. It's the fact that having raised the cash, management decided to pay off its debts. I agree with Bezek that it was an incredible move. I'm just not sure it was a good one.
With all the cash that management raised, it could have done many things with it. Instead, it chose to do what I find the most curious action, especially in this environment. After all, benchmark interest rates have been coming down for decades. And because of the nuttiness of the pandemic, they fell to ridiculous lows. Yet executives decided to pay off debt and hold cash?
Don't get me wrong — it could turn out to be the right move if the economy tumbles into a deflationary cycle. But that's the issue. If management had confidence in the economy or its business, it had multiple avenues to do something with the stock sale but chose the safest play.
Sundial's Going to Need to Do Something
To be fair, it's early in the windfall. Over the next few quarters, we'll get an idea of what direction the executives want to take. Make the right move and even more social media traders will follow.
But to me, even the sale of SNDL stock is interesting. Clearly, when shares were flying toward $4, the people closest to the underlying business saw greater value in offloading shares. That to me is another sign of no confidence.
I don't blame management for doing what it did. I would sell too — and probably earlier. But for retail investors to buy shares when even the ones who truly understand the business would prefer taking cash? That's something you should think about before buying SNDL stock.
On the date of publication, Josh Enomoto did not have (either directly or indirectly) any positions in the securities mentioned in this article. The opinions expressed in this article are those of the writer, subject to the InvestorPlace.com Publishing Guidelines.
A former senior business analyst for Sony Electronics, Josh Enomoto has helped broker major contracts with Fortune Global 500 companies. Over the past several years, he has delivered unique, critical insights for the investment markets, as well as various other industries including legal, construction management, and healthcare.
More From InvestorPlace
The post Sundial Growers Is a Pure Play on Trading Sentiment appeared first on InvestorPlace.